1994-2001: Figurative Oils
During this early period, I worked from nature but avoided details. Movement, energy, and rhythm are visible in the brushwork. In these realistic images, I stressed line, color, tonal variation, and provocative composition. I strove for simplicity, leaving only the essential parts.
Gallery Images - Figurative Oils
2001-2008: Laundry and Bras
We are alone much like clothes on a line. However, the line and pins connect what would otherwise be separate things. We too are linked by our relationships.
The bra series, though it appears figurative, is conceptual. This work began in reaction to learning about women being abused and raped in Africa. I chose the bra as a symbol for women and their sexuality: a weapon/strength, a vulnerability/weakness. Women use a bra daily; it is practical, beautiful, and sexy. Although sand and pebbles are an unexpected medium for lingerie, I did not intend to suggest aggression, even when I used drill holes to mimic lace or roof nails of different heights to create bras. Related to this theme, I made a series of wild shoes out of stones, sand, and pebbles to reflect the impossible and multiple roles of women.
Gallery Images - Laundry and Bras
2008-2010: Seascapes
I started the seascapes in December of 2009 when my mother was given a terminal diagnosis. Thinking of life without her, the parent I grew up with, I saw myself before the sea, alone, on the beach. The first paintings were in black and white on canvas. Later I painted on scrap wood, using two to five panels, and used both realistic and nonsensical colors. I then added actual sand for the shore.
2010-2012: Sand Work
I work meticulously with sand and glue. I like sand because of its texture and colors, and because it is unpredictable, compelling, and unusual. Using what is considered a messy material neatly and precisely is a challenge. I sift the sand into large, medium, and small grains. After carefully applying glue to canvas or paper, I quickly pour the sand onto the piece. The work is methodical and slow, then spontaneous and quick.
The sand drips are about intimacy as they have a relationship to one another. They also reflect the impatience of our society, the speed at which we live, and the monotony and predictability - or lack of it - in life.
The sand letters say everything you ever wanted to tell someone, but I felt confined and limited by words, pen and paper. Therefore my letters are illegible and mean nothing. However, they have the common and predictable letter format regardless of language. The writing styles reflect various facets of ourselves and different personalities. Rhythm is ever-present.
Gallery Images - Sand/Sand Drips
Gallery Images - Sand Letters
2013-2014: I Love You
This series is a culmination of my previous work. It is colorful, energetic, free, very direct, and honest. It is like a letter, with the words I want to say in it. It is also a reflection of my attitude, that of being unleashed and living with abandon, allowing nothing negative to settle or take hold.
The work appears simple; it is edited, an "essence." Like a short story, however, it is not so simple. In thinking about music, art, literature - any art form - "love" is often the topic. It is a driving force, and possibly a destructive one. At its best, it is a blissful power and pleasure, a kind of maximum - mental, physical, and emotional. We all have varying abilities to love, let go, and give fearlessly without hesitation...these paintings stem from that.
2015-Present: Sculptures from Found Objects
So much is produced, wasted, and thrown out, ultimately ending up in land fills. Consequently, I decided to repurpose discarded material such as scrap metal, car parts, mirrors, and driftwood.
What I find plays a major part in determining what the sculptures will be. This process opens up new work methods and inspires unbiased thinking about these found materials and the forms I will make. I am forced to use what I have and end up with pieces that are often surprising.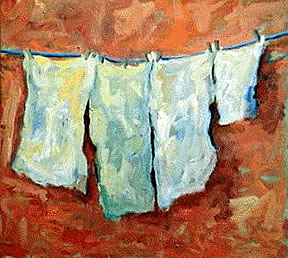 Four on a Line
Oil on Canvas
34" x 38"
1999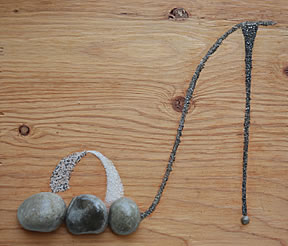 High Platform Sandal
Stones, Sand, and Glue on Wood
12" x 14"
2009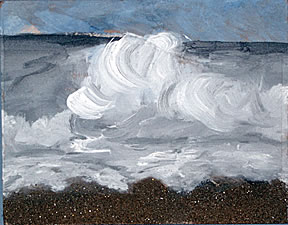 Big Wave
Oil and Sand on Wood
10" x 12"
2007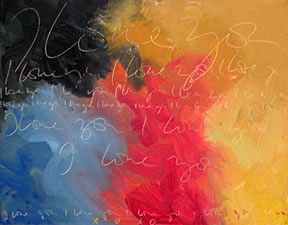 I Mean It 2
Acrylic on Canvas
11" x 14"
2014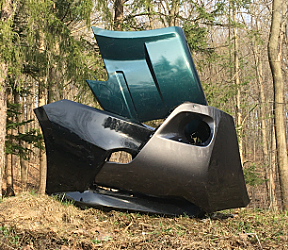 Green Grey Black
Plastic Car Fenders
43" x 40"
2022